From Ian:
---
Student found stabbed to death in West Bank terror attack; manhunt launched
The body of a yeshiva student who had been stabbed to death was discovered outside a settlement in the Gush Etzion area of the West Bank in the predawn hours of Thursday morning, prompting a massive manhunt for the killer.

The victim, who was later identified Dvir Sorek of the Ofra settlement, was studying at the Machanayim religious seminary in the Migdal Oz settlement, and had joined the military while continuing his studies, in a program known in Hebrew as hesder. Though formally a soldier, he was unarmed and not in uniform at the time of the attack, nor had he undergone military training.

Authorities were treating the killing as a terror attack. As of Thursday morning, no Palestinian terror group took responsibility for the killing.

The 19-year-old had been missing since Wednesday evening. His family and people at the yeshiva where he was studying told authorities that they'd lost contact with Sorek as he was returning to the seminary after a trip to Jerusalem. Sorek's body was found at approximately 3 a.m. along a road leading to Migdal Oz, a settlement south of Bethlehem.

"He went to Jerusalem to buy gifts for his rabbis and on the way back there was an attack. He was found clutching the books that he'd bought," the principal of his seminary, Rabbi Shlomo Wilk, told Army Radio.
'Whoever didn't know him missed out,' says father of murdered student Dvir Sorek
The father of a yeshiva student found stabbed to death in the West Bank on Thursday remembered his son as "a kid with light in his eyes," and said whoever killed him had "murder in his eyes."

Dvir Sorek, who was enrolled in a program combining military service with Torah study, set out Wednesday from the Migdal Oz settlement, where he was studying, to buy a gift for a teacher in Jerusalem. His body was found with stab wounds early Thursday on the road leading to the settlement, in what authorities were treating as a terror attack.

"Whoever didn't know him missed out; he used to help the weak around him who were in need of a friend," a tearful Yoav Sorek told reporters outside his home.

"Our Dvir was sweet," Sorek, editor of the conservative HaShiloach journal, said of his 19-year-old son. "Two months ago he had a karate exam and he didn't get a high grade because his teacher said he performs the movements well, but lacks 'murder' in his eyes. That's right. He had light in his eyes. Now someone with murder in his eyes has taken him.

"We received a gift for almost 19 years — for that gift we are grateful, we will carry the pain from now on," he said.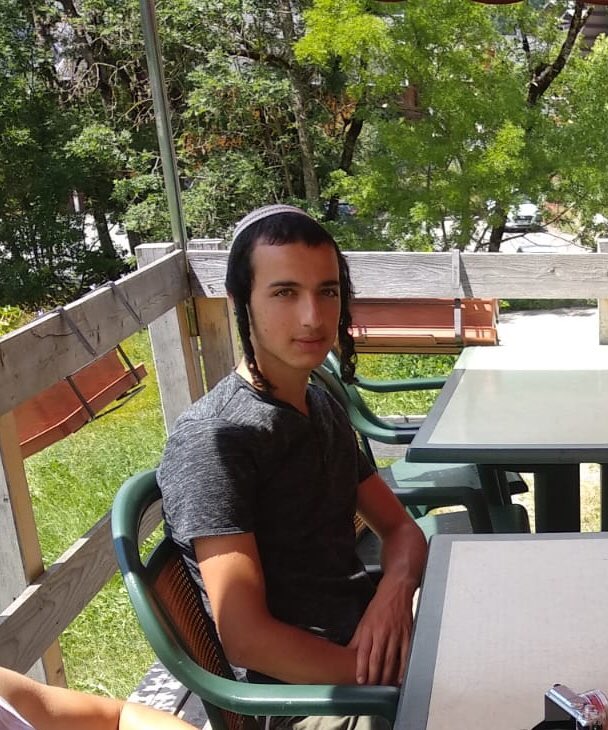 Slain student Dvir Sorek, 19, had a 'heart of gold,' teachers say
Dvir Sorek, a yeshiva student enrolled in a program combining Torah study with military service, left his seminary in the West Bank settlement of Migdal Oz Wednesday to head to Jerusalem to buy books — a gift for a teacher.

The 19-year-old never returned.

In the early hours of Thursday morning, his body was discovered on the side of a road leading into the settlement, riddled with stab wounds. He was not in uniform at the time of his death, the army said. Authorities were treating the killing as a terror attack.

"He was found clutching the books that he'd bought," Rabbi Shlomo Wilk, the head of the Migdal Oz seminary Machanayim, said Thursday morning, as word of Sorek's murder was met with shock and sadness by those who knew him.

"He was an amazing man, very sensitive, smart, modest, who fused wisdom and quiet… This is a man who at the beginning of the year saw an Arab walking around the area with a donkey that looked unwell, sick, so he offered to buy the donkey. He bought it, treated it, and sent it away," Rabbi Sarel Rosenblatt, who taught Sorek, told Channel 12 news.

"I wanted him to be a man of standing in Israel, who would contribute a lot of his light to Israeli society, and his light was taken from us," he added, describing him as a "sensitive man with a heart of gold."

Another teacher, Rabbi Yossi Fruman, said his trip to Jerusalem to buy a gift for his teacher "very much defined him."

"He always thought about how he can express his gratitude. He returned to Jerusalem with the books on him," he told the Kan public broadcaster. Some media outlets identified the book as Israeli author David Grossman's latest novel.
Netanyahu vows to push Israeli sovereignty in West Bank after terror attack
Prime Minister Benjamin Netanyahu vowed Thursday to guarantee Israeli sovereignty in "all parts" of the West Bank as he participated in a cornerstone-laying ceremony for 650 new housing units in the settlement of Beit El.

The event came hours after an Israeli student was found stabbed to death near a West Bank settlement in an apparent terror attack, sparking calls for Israel to expand settlement building in response, and a day after the United Nations and Britain panned Israel for paving the way for "effective annexation" by approving thousands of settler homes.

"We promised to build hundreds of housing units — today we are doing it, both because we promised and because our mission is to establish the nation of Israel in our country, to secure our sovereignty over our historic homeland," he said, according to a statement sent out by his ruling Likud party.

"We know that the Land of Israel is acquired through suffering," he said, referring to the stabbing earlier that day of yeshiva student and off-duty IDF soldier Dvir Sorek. "He was from a family that has already made a heavy sacrifice for the Land of Israel," the prime minister said, in reference to Sorek's grandfather, who was killed in a 2000 terror attack.

"These vicious terrorists, they come to uproot — we come to plant. They come to destroy — we come to build," he added. "Our hands will reach out and we will deepen our roots in our homeland, in all parts of it."

In 2012, Netanyahu promised to build 300 new homes in Beit El, outside Ramallah. The project was approved in June 2017.
IDF Soldier Kidnapped, Stabbed in West Bank
An off-duty IDF soldier and student at Ohr Torah Yeshiva in Gush Etzion was kidnapped and stabbed to death. What is the legacy he leaves behind? Our Pierre Klochendler reports.
IDF raids Palestinian village as troops hunt for terrorists who killed student
Israeli security forces launched a massive search effort after the body of a yeshiva student who had been stabbed to death was found outside a settlement in the Gush Etzion area of the West Bank in the predawn hours of Thursday morning. Authorities were treating the killing as a terror attack.

Palestinian media reported that Israeli troops were operating extensively in the village of Beit Fajjar, outside Bethlehem, confiscating security camera footage and conducting searches in order to locate the killer or killers. Army Radio reported that Palestinian security forces were also taking part in the search effort.

The village is adjacent to the settlement of Migdal Oz, where Dvir Sorek 19, studied, and near where his body was found Thursday morning.

The Israel Defense Forces confirmed that soldiers were conducting operations in Beit Fajjar, but would not comment further on the details of its manhunt. Details of the investigation were put under a court-issued gag order.

Following the attack, the military said it was bringing additional infantry troops into the West Bank. "In light of a security assessment, it was decided in the IDF to bring in infantry reinforcements to the Judea and Samaria region," the army said in a statement, using the biblical name for the West Bank.
Israel-Palestinian Tensions After IDF Soldier Murdered
With another stabbing attack on an Israeli soldier in the West Bank, memories of the three Israeli boys who went missing in 2014, which led to the Gaza War, have resurfaced. Our Jonathan Regev reports. Haifa University professor Rob Geist Pinfold analyzes.
Hamas and Islamic Jihad praise 'heroic' West Bank slaying of student
Hamas and the Palestinian Islamic Jihad heaped praise on a deadly attack on a student in the West Bank Thursday, but stopped short of claiming responsibility for the fatal knifing.

The body of Dvir Sorek, 18, was discovered bearing stabbing marks in the predawn hours of Thursday outside of a West Bank settlement where he was studying, the Israel Defense Forces said, describing the killing as a terror attack.

The army has launched a massive manhunt for the killer or killers centered around the Etzion settlement bloc south of Jerusalem.

In a statement, Hamas said it praised "our people's heroic fighters who carried out the heroic operation that killed a soldier in the occupation's army."

Sorek studied at the Machanayim yeshiva in the Migdal Oz settlement as part of a military program known in Hebrew as hesder. Though formally a soldier, he was unarmed and not in uniform at the time of the attack, nor had he yet undergone military training.

Hazem Qassim, a spokesperson for the Hamas terror group, told the Gaza-based Shehab news outlet that the attack was proof of the failure of security cooperation between Israel and the Palestinian Authority security forces.
Palestinian Terrorism and the Future of the West Bank
With the future of the West Bank in question and unlikely to become a Palestinian state if the status quo remains, will terrorism continue or would an actual withdrawal put an end to it? Members of Israeli Parliament Ariel Kallner and Yael Cohen-Paran debate.
PMW:
Can one man's child murderer ever be another man's hero?
18 years ago today Ahlam Tamimi smuggled a bomb in a guitar case into Jerusalem and led a suicide bomber to the Sbarro pizza shop, who then murdered 15 Israelis, 8 of them children. When Tamimi thinks about the children she murdered she has "no regrets," in fact it makes her happy. These are some of her thoughts about murdering children:

Tamimi: "For nine days I examined the place very carefully and chose it after seeing the large number of patrons at the Sbarro restaurant..."
Interviewer: "Didn't you think about the people who were in the restaurant? The children? The families?"
Tamimi: "No."
Tamimi: "I have no regrets, and no Palestinian prisoner regrets what he or she has done..."
Interviewer: "Do you know how many children were killed in the restaurant?"
Tamimi: "Three children were killed in the operation, I think. [Smiles.]"
Interviewer: "Eight."
Tamimi: "Eight?! Eight." [Smiles more broadly.]
[PA TV rebroadcast the interview on Oct. 23, 2011, after her release]

Child murderer Tamimi was arrested by Israel and received 15 life-sentences. However, she was released 10 years later with over 1,000 terrorist prisoners, in exchange for the Israeli hostage soldier Gilad Shalit. Tamimi, who now lives in Jordan where she hosts a TV show, is on the United States "Most Wanted Terrorist" list.

In a recent interview on Al-Jazeera she explained that she cannot understand why the US wants to extradite her or why she is even defined as a terrorist.

"Seven years after our release, now the American [authorities] are demanding to re-arrest me. This has shaken our lives to a certain extent... Why are we defined as 'terror'? Why is Ahlam defined as 'a terror[ist]'? After all, I'm part of an independence movement, a national liberation movement, a resistance movement acting for its freedom." [Al-Jazeera.net website, March 28, 2019]

It is not only Tamimi who sees herself and her terror partners in the Sbarro bombing as heroic freedom fighters. The PA rewards every one of the child murderers involved in the bombing. Palestinian Media Watch has calculated that since the bombing on August 9, 2001, the PA has paid the 8 terrorists responsible for the attack and the families of the dead terrorists (so called "Martyrs") no less than 3,209,740 shekels ($910,823).
The pain of a child's murder: A burden of grief and injustice
The terror attack on Sbarro was unique in several ways.

One family was nearly decimated: a mother, father and three of their eight children perished.

Another couple lost their one and only child along with the baby she was carrying who would have been their first grandchild. I visit that bereft mother regularly as she now faces myriad health crises, confined to a wheelchair.

Sbarro is also unique in that Tamimi boasts to this day of "her operation". She has described in televised interviews how she scoured Jerusalem's city center for the perfect target - one that would be filled with women and children.

For years she hosted a weekly program beamed from Amman to viewers throughout the Arab world on Hamas' Al Quds TV station.

She smiled joyfully when she learned that her 15 victims included 8 children, not the mere three she claimed to believe.

She has been a constant presence on Facebook, Instagram and Twitter where she incites her fans to follow her example. She is undeniably the incarnation of evil.

And yet she is safe, free and raising a family. Every day of this reality is another stab in our hearts.

This week, grieving Americans were assured by Federal authorities that the El Paso shooter who murdered 22 innocent victims would be deemed a terrorist. He would receive "swift and certain justice."

The victims of terrorist Tamimi are still waiting for that.
Honest Reporting:
Jewish Roots: Building the Land of Israel
The Land of Israel, known as Palestine at the time, was a wasteland in the late 19th century. Mark Twain visited the region in 1867 and wrote in his travel book The Innocents Abroad:

Of all the lands there are for dismal scenery, I think Palestine must be the prince. The hills are barren, they are dull of color, they are unpicturesque in shape. The valleys are unsightly deserts fringed with a feeble vegetation that has an expression about it of being sorrowful and despondent.… It is a hopeless, dreary, heart-broken land.

Small shreds and patches of it must be very beautiful in the full flush of spring, however, and all the more beautiful by contrast with the far-reaching desolation that surrounds them on every side.…

Palestine sits in sackcloth and ashes. Over it broods the spell of a curse that has withered its fields and fettered its energies.… Renowned Jerusalem itself, the stateliest name in history, has lost its ancient grandeur, and is become a pauper village…the wonderful temple, which was the pride and the glory of Israel, is gone.… The noted Sea of Galilee…was long ago deserted by the devotees of war and commerce, and its borders are a silent wilderness.…Palestine is desolate and unlovely.

Just 100 years later, the Land of Israel was filled with lush forests with trees and flowers growing throughout the country, surrounding heavily populated cities connected by congested highways.

When and how did this change transpire?
It's important to emphasize that there was a continued presence of Jews in Palestine from the time of the destruction of the Temple in 70 CE and throughout the ensuing 2,000 years. The first major emigration of Jews to their homeland took place in the wake of the 1492 Spanish Inquisition, in which Jews were forced to either convert to Christianity or be expelled from Spain. Then in the late 18th century and early 19th century, very religious Eastern European Jews returned to the Land of Israel, not to build a state but to be the spiritual emissaries in the Holy Land for Jews throughout the world.

Despite the Arab population's persecution of the Jews, in adherence to the Muslim institution of "dhimmitude," referring to infidels who are not Muslim, who according to their faith must remain inferior to the Muslims, Jews continued to emigrate to Palestine and by 1840 they numbered 17,000 in Jerusalem – a majority of the city's population.
The Palestinians Do Not Want Equal Rights
Speaking to the Times of Israel, another Palestinian businessman asked, "Why is it that people working on advancing peace and building a better future receive this type of treatment?"

In the first story, Palestinian society demonstrated that its hatred of Israel is so visceral, so deeply entrenched, that anyone who helps Israelis—even children facing possible death—should be ostracized, if not hurt or killed. In the second story, Palestinian leadership showed that its opposition to peace with Israel is so intense that it would rather arrest innocent civilians than receive billions of dollars and improve the lives of its people. Taken together, both stories show that what Palestinians really want as a people is to destroy Israel, not "dignity" or "equality," to use Tlaib's words. Indeed, the Palestinians care more about hurting Israelis than helping themselves.

Just look at the Palestinian Authority's priorities. Its security forces are only receiving half their monthly pay amid the West Bank's dire economic situation, yet the PA continues to reward terrorists and their families with hundreds of millions of dollars. "Even if we have only a penny left, we will give it to the martyrs, the prisoners, and their families," Abbas said last year.

The Palestinians' culture of hate is their main problem and the primary obstacle to peace with Israel. In both Gaza and the West Bank, the Palestinians govern themselves for all intents and purposes and can enjoy dignity and equality if they want them. All the Palestinians have to do is accept that Israel is here to stay as a Jewish state rather than a cancer to be eradicated. Tlaib can try to disguise the truth, but Palestinians' collective hatred is too intense to hide.
A leaked internal report alleges misbehavior by several leading officials at the U.N.'s Palestinian refugee organization, exposing a long overripe status quo, write Alex Joffe and @ARomirowsky https://t.co/bJb78c3pfc via @WSJ

— Neil Lazarus (@awesomeseminars) August 8, 2019
House Legislation Seeks to Restore USAID Projects to Palestinian Areas
Amid the strained ties between the Trump administration and Palestinian leadership, some efforts on Capitol Hill have developed to help facilitate aid directly to the Palestinian people. However, concerns remain over whether or not aid money would go directly to the Palestinian Authority, which rewards convicted terrorists and their families, known as "pay to slay."

A bill that passed the US House of Representatives last week includes a provision that would amend the Anti-Terrorism Clarification Act(ATCA), which provides protections for American victims of international terrorism, that caused the US Agency for International Development (USAID) to halt in February its projects in the West Bank and Gaza.

Jonathan Schanzer, senior vice president of research at the Foundation for Defense of Democracies, told JNS that "there was significant cause for concern about a full and total cutoff" of assistance to the Palestinians, especially that which is humanitarian, in addition to not continuing Israeli-Palestinian security cooperation with Jordanian help.

"The real issue is ensuring that none of this trickles back to the Palestinian Authority," he said. "I suppose that the devil is in the details in terms of how the money is dispersed, and ultimately, what assurances are put in place that this does not serve to benefit the PA, which was the reason for the initial legislation [ATCA] in the first place."

Section 108 of the United States-Israel Cooperation Enhancement and Regional Security Act, introduced by Rep. Ted Deutch (D-Fla.), would reauthorize resuming the projects in the West Bank and Gaza, even though such a decision would ultimately be left to the Trump administration.
Netanyahu Meets With Delegation of US Lawmakers in Jerusalem
Prime Minister Benjamin Netanyahu met in Jerusalem on Wednesday with a delegation of 41 Democratic members of the US House of Representatives.

House Majority Leader Steny Hoyer (D-Md.), a longtime Israel ally, is leading the delegation, which arrived in Israel on Tuesday and is set to tour the country over the coming week. The visit was organized by the American Israel Education Foundation, an affiliate of the American Israel Public Affairs Committee.

The Prime Minister's Office has so far released only a brief excerpt of Netanyahu's remarks at the meeting.

"There is an exceptional revolution taking place in Israel's position in the world," Netanyahu reportedly told the delegation, "this is seldom told. We've forged 300 agreements in three years."

Also in attendance at the meeting were Foreign Minister Yisrael Katz and AIPAC President Mort Friedman.
India strips Muslim-majority Kashmir of special constitutional status, sends in 25,000 troops, arrests Kashmiri politicians, places entire region in lockdown, cuts phone networks and internet to block opposition.

Swift reaction here in Geneva from the U.N. Human Rights Council: pic.twitter.com/W6yrJO85d4

— Hillel Neuer (@HillelNeuer) August 7, 2019
Huh? "One good way to take action against what India is doing in Kashmir would be to boycott Israel"
The anti-Israel Boycott, Divestment, and Sanctions (BDS) movement insists it is merely "pro-Palestinian" and not anti-Semitic. There is a mountain of evidence otherwise, but sometimes there is a clarifying moment as to how calls to boycott Israel have become mainstreamed.

Such a moment came on Twitter regarding India's recent moves in Kashmir, which we covered in India Revokes Special Status for Muslim-Majority Kashmir, May Open Up Region to Hindu Immigration.

Legal scholar Eugene Kontorovich, in response to a claim that "India's annexation of Kashmir is straight out of the Israeli playbook," predicted that India would not get the Israel BDS treatment:
"If this is true, it is particularly notable that the reaction of @hrw @amnesty @un and progressives around the world will not be from their Israel playbook – boycotts of Indian universities, musicians who play in India etc"

And certainly that was a logical prediction. But BDS is not logical, it's an irrational hatred of Israel because Israel is Jewish. We saw that recently when Ariel Gold, the National Co-Chair of Code Pink, tried to use the El Paso shooting against Israel:
This is yet another example of the "intersectionality" disease I have written about here many times: Israel becomes the unifying evil in the world which ties together all other evils, much like the "international Jew" was the unifying evil of classic anti-Semitism.

Enter David Klion, a far-left writer at places such as The Nation, The Guardian, and currently, Jewish Currents (where he is listed as News Editor). In 2018 Klion earned the headline The Nation Contributor Thrown in Twitter Jail After Doxxing Stephen Miller: 'This is War':

While I had heard of the Miller doxxing, Klion's name was not familiar to me until his tweet about Kashmir showed up on my timeline. He tweeted that people who wanted to take action against what India is doing in Kashmir should boycott … wait for it … Israel:
"One good way to take action against what India is doing in Kashmir would be to boycott Israel, which is arming India and supports what India is doing in Kashmir…."

Researcher Nurit Baytch pointed out in response that Israel is a small player in supplying weapons to Israel, so why focus on Israel:

Russia supplied 58% of India's arm imports, while Israel supplied 15%. If your 1st reaction to what Modi is doing in Kashmir is: "boycott the source of 15% of India's arm imports," the 1st question to ask: why are you so obsessed w/ that one minor player?
I stand corrected - progressive response to India's "annexation" of Kashmir is exactly the same as their response to Israel: in both cases, calling for boycott of ISRAEL. totally consistent, and I shouldn't have suspected otherwise. H/t @LegInsurrection pic.twitter.com/DljFuOcSE0

— Eugene Kontorovich (@EVKontorovich) August 8, 2019
HBO drama looks at killings of teens that ignited Gaza war
HBO's new docudrama series about the Palestinian killings of three Israeli teenagers, which was followed by the revenge murder of a Palestinian teen and set off a cascade of violence leading to the 2014 Gaza war, will air next week and is likely to reopen wounds on both sides of the conflict.

"Our Boys," co-created by Palestinian and Israeli filmmakers, presents a dramatized rendition of the chaotic events of that June following the abduction of three Israeli teens in the West Bank. The series, co-produced by HBO and Israel's Keshet TV, premiering August 12, looks at the hatred and violence unleashed during one of the decades-old conflict's most frenzied periods.

In June 2014, Gilad Shaer, Naftali Fraenkel, and Eyal Yifrach, three Israeli teenagers aged 16 to 19, were abducted and killed by Palestinian terrorists outside a West Bank settlement. An extensive Israeli military search eventually located their remains more than two weeks later. After the discovery, three Israelis kidnapped a 16-year-old Palestinian from East Jerusalem, Muhammad Abu Khdeir, and burned him alive in the woods outside the city.

Israel launched a sweeping crackdown in the West Bank after the three teenagers went missing, and the terror group Hamas began firing rockets from Gaza in response to the arrests of hundreds of its members. In response, Israel launched a full-scale air and ground invasion of the coastal territory. The 51-day war killed more than 2,200 Palestinians, over half of whom were civilians according to UN tallies, though Israel contends most were members of terror groups. At least 73 people were killed on the Israeli side, 67 of them soldiers.
Barkan terrorist's brother given 1-year sentence for not stopping fatal attack
The brother of a Palestinian terrorist who murdered two Israelis at the Barkan Industrial Park in the northern West Bank in October was sentenced to one year in prison on Wednesday for failing to prevent the brutal attack.

Following the sentencing hearing, a small scuffle erupted between the family of one of the victims and defense attorneys in the West Bank military courtroom. Video from the scene showed that soldiers were called in to prevent the altercation from escalating.

On October 7, Ashraf Na'alowa, an electrician who worked at a factory in the Barkan Industrial Park, came into work armed with a gun and took hostage several of his co-workers, tying up Kim Levengrond Yehezkel.

During the attack, he shot and killed Yehezkel, 29, and Ziv Hajbi, 35. Another Israeli woman was also seriously injured.

Ashraf evaded capture for two months, until he was shot dead in a December 13 raid in Nablus by an elite Israeli counterterrorism unit. The Shin Bet security service has said Na'alowa, from the West Bank village of Shuweika near Tulkarem, appeared to have been planning a second terror attack.

Earlier this year, Amjad Na'alowa was convicted by the Samaria Military Court of being aware of plans by his brother Ashraf to carry out a terror attack and not taking steps to stop him or inform Palestinian or Israeli security agencies.

In May, Na'alowa's mother Wafa was convicted on similar charges.
Palestinian leaders express outrage at Jewish calls to visit Temple Mount
The London-based Saudi daily Asharq Al-Awsat reported that the "extremist Jewish 'Union of Temple Organizations'" called for Jews to storm the Aqsa Mosque on the occasion of Tisha Be'Av, which runs into the Islamic holiday of Eid al-Adha this year.

The report, published Wednesday, said that Jews were being called to "storm the mosque." There were no Israeli sources confirming such a report.

The Grand Mufti of Jerusalem Sheikh Muhammad Hussein demanded that the site be protected and said that he would hold the Israeli government responsible for any escalation.

A member of the Fatah Central Committee, Jamal Muheisen, considered the calls a "challenge to the people's will and to Jordan," according to the daily.

Muheisen also claimed that Prime Minister Benjamin Netanyahu approved the calls to storm the mosque, in an effort to promote himself as more extremist in order to gain votes from the religious sector.

Eid al-Adha, known as the "festival of sacrifice," coincides with the completion of the Hajj pilgrimage to Mecca and commemorates Ibrahim's (Abraham) readiness to sacrifice his son in order to demonstrate his dedication to G-d, according to the Independent.
Firebrand former MK Zoabi set to be charged with fraud, forgery
Attorney General Avichai Mandeblit on Thursday informed former Knesset lawmaker Hanin Zoabi of the Arab Israeli Balad party that he intends to indict her on a series of fraud charges, pending a hearing.

Zoabi is suspected of aggravated forgery, falsifying corporate documents, money-laundering, and aggravated fraud. Her pre-indictment hearing date was not immediately announced.

According to Hebrew reports, another 35 suspects will be charged in the far-reaching investigation of alleged financial irregularities in the Balad party, a hard-line Palestinian nationalist faction that makes up part of the Joint List party.

Balad on Thursday condemned the looming criminal charges as "a vindictive step of political persecution." The decision "to announce it during an election campaign clearly underlines this," the party said, referring to the upcoming September vote.

Police suspect that for several years senior party members systematically deceived authorities and the state comptroller by misrepresenting the source of millions of shekels the party had received.

In September 2016, arrests were made against more than 20 activists and members of Balad, including the party's accountant. Balad allegedly reported large donations from "various sources in Israel and abroad" as if they were hundreds of smaller contributions made within Israel, according to police.
Muslim Pilgrims Descend on Mecca for Haj, Saudis Warn Against Politics
Hundreds of thousands of white-clad pilgrims, many gripping umbrellas to ward off Saudi Arabia's blistering summer sun, descended on Mecca this week ahead of the annual haj.

Saudi officials asked Muslims to focus on rituals of worship, warning against politicizing the rite as wars rage on in the region and at a time of heightened tensions between Sunni Muslim Saudi Arabia and Shi'ite Muslim adversary Iran.

"Haj…is not a place for political conflicts or to raise sectarian slogans that divide Muslims," Abdulrahman al-Sudais, imam of the Grand Mosque of Mecca, told reporters.

Mecca Governor Prince Khalid al-Faisal asked worshipers earlier this week to "leave all other matters in your countries to discuss when you are back."

Saudi Arabia stakes its reputation on its guardianship of Islam's holiest sites and organizing a peaceful haj, which has been marred in the past by deadly stampedes, fires and riots.

Authorities said more than 1.8 million pilgrims had so far arrived in the kingdom for the world's largest annual Muslim gathering, which retraces the route the Prophet Mohammad took 14 centuries ago.
Lebanese Politician: Hizbullah, Iran Control Our Political Decision-Making by Their Weapons' Power
Lebanese journalist and politician Naufal Daou, a member of the March 14 Alliance, said in an August 5, 2019 interview on LDC TV (Lebanon) that Lebanon's political decision-making process is controlled undemocratically by Hizbullah, which he said represents Iran and its interests. He said that Hizbullah imposed itself on Lebanon by force, but that there is resistance to this among the Lebanese people, who he said oppose the current reality.
Turkish Parliament Speaker: Any US Attempt to Prevent Us Acquiring F-35 Jets Would
Mustafa Şentop, the Speaker of the Turkish Parliament, said in an August 5 2019 Arabic-language interview on Russia Today TV that Turkey's recent deal to acquire S-400 missile systems from Russia does not have any implications on Turkey's commitment to NATO or on its alliance with the United States, despite American objection to the deal. Saying that using the S-400 deal as a pretext for expelling Turkey from NATO is absurd, Şentop explained that Turkey had initially attempted to purchase Patriot missiles systems from the U.S., but that when the deal fell through and when NATO withdrew its Patriot batteries from Turkey in 2015, Turkey had no choice but to seek out other options for its defense. Şentop also said that any attempt on the part of the U.S. to sanction Turkey by means of preventing it from acquiring F-35 jets would have catastrophic implications on U.S.-Turkey relations, particularly since Turkey has played a part in the F-35 project.
Iran says Israeli involvement in Gulf naval mission would be 'disastrous'
Cartoon Exhibit in Tehran Depicts Queen Elizabeth as a "Petrol-Swallowing Queen"
On August 5, 2019, IRINN TV (Iran) aired a report about an anti-British cartoon exhibit at the Osveh Art and Cultural Center in Tehran. The exhibit, which was titled "Pirates of the Queen" and which was organized by the Cultural Foundation of the Narrative of Triumph, showed 40 cartoons and caricatures by 14 Iranian artists depicting the English government's "piracy" against the Iranian oil tanker it seized in Gibraltar on July 4, 2019. The exhibit was attended by high-level Iranian military officials, and Iranian armed forces spokesman General Abolfazl Shekarchi said that the exhibit shows the "essence" of England's "humiliation" in recent events. Shahram Shirzadi, one of the artists, said that one of the goals of the exhibit was to attract young people. Another artist, Alireza Zakeri, said that he depicted the Queen of England thirstily drinking Iranian oil as a "petrol-swallowing queen." The caricatures also included images of Queen Elizabeth and a British foxhound interacting with U.S. President Donald Trump, and some images suggested a relationship between England and the Jews.
---
---
We have lots of ideas, but we need more resources to be even more effective. Please
donate today
to help get the message out and to help defend Israel.