From Ian:
---
Isi Leibler:
Taking stock and looking ahead
We enter Rosh Hashanah 5778 with conflicting emotions.

Israel has never been stronger, but we live in a world of chaos.

North Korea threatens nuclear Armageddon and Europe is now suffering Islamist terrorist attacks the likes of which Israel has endured since its inception.

The Iranians and Hezbollah seek to move in on Israel's northern frontiers, repeatedly proclaiming an imminent war that will destroy Israel. Prospects are nonexistent for peace with the Palestinians and Hamas has announced a renewal of its relationship with Iran.

We now realize that the apparent decline in anti-Semitism after the Shoah was illusory. Globally, anti-Semitism – frequently expressed as anti-Israelism – has escalated.

Domestically, Israel has been inundated with accusations of corruption implicating the prime minister and leading government officials, prominent businessmen, senior bureaucrats and even the IDF. Although these charges have yet to be proven, the accused have been proclaimed guilty by undisciplined police officers and the sensationalist media.

Despite these challenges, we must thank the Almighty; the Jewish people is stronger than it has ever been since the destruction of the Second Temple, and Israel is a regional superpower.

Whatever one's views about U.S. President Donald Trump and despite some unfulfilled campaign promises, he supports Israel. In addition, support for Israel in Congress and the overall American public stands at an all-time high.
Caroline Glick:
Israel and the American Jewish crisis
As the New Year 5778 begins, 88% of Israeli Jews say that they are happy and satisfied with their lives. This makes sense. Israel's relative security, its prosperity, freedom and spiritual blossoming make Israeli Jews the most successful Jewish community in 3,500 years of Jewish history.

The same cannot be said for the Jews of the Diaspora. In Western Europe, Jewish communities that just a generation ago were considered safe and prosperous are now besieged. Synagogues and Jewish schools look like army barracks. And the severe security cordons Jews need to pass through to pray and study are entirely justified. For where they are absent, as they were at the Hyper Cacher Jewish supermarket in Paris in 2015, assailants strike.

Western European Jewry's crisis is exogenous to the Jewish communities. It isn't the Jews who caused the crisis, which may in time cause the wholesale exodus of the Jews from Europe. The crisis is a function of growing levels of popular antisemitism spurred by mass immigration from the Islamic world and the resurgence of indigenous European Jew-hatred, particularly on the far Left.

The same cannot be said of the American Jewish community, which at the dawn of 5778 also finds itself steeped in an ever deepening crisis. And while antisemitism is a growing problem in America, particularly on university campuses, unlike their European counterparts, American Jews could mount and win a battle against the growing anti-Jewish forces. But in large part, they have chosen not to. And they have chosen not to fight the antisemites because they are in the midst of a self-induced identity crisis.

First, there is the problem of demographic collapse.
Nearing Centennial, Lord Balfour Descendant Shows Pride in Family Support for Jewish Homeland
In anticipation of the 100th anniversary of the Balfour Declaration, British and Israeli senior officials convened in Jerusalem last week to discuss the past, present and future of British-Israeli relations.

The Balfour Declaration was a British government public statement, issued on November 2, 1917, that offered support for the establishment of a "national home" in Palestine for the Jewish people. The declaration is credited with galvanizing popular support for Zionism.

The recent UK-Israeli conference was dubbed "From Balfour to Brexit," and held on September 13 and 14 to inaugurate the new Jerusalem-based Sir Naim Dangoor Centre for UK-Israel Relations. Speakers at the conference, including former British Prime Minister Tony Blair, Israeli Ambassador to Britain Mark Regev, Israeli Foreign Minister Tzipi Livni and Natan Sharansky, chairman of the Jewish Agency for Israel, focused on the history and future of British-Israeli relations. They also discussed the possible political and historical implications of Britain's upcoming exit from the European Union, as mandated by last year's so-called "Brexit" vote.

At the conference, Lord Roderick Balfour, the 5th Earl of Balfour — and the great-great nephew of former Foreign Secretary Lord Arthur Balfour — reminisced fondly about "family folklore" of his ancestor's "very important letter."
Algemeiner Editor-in-Chief: Today's Battles on Behalf of Israel in Media Are 'Extension of the Historic Jewish Struggle for Emancipation'
Contemporary battles to defend Israel in the media are an "extension of the historic Jewish struggle for emancipation," Algemeiner Editor-in-Chief Dovid Efune declared on Monday at the paper's annual gala in New York City.

Speaking in front of an audience of over 600 supporters, Efune recalled, "Even the early pioneers knew that the fight for Jewish self-determination would not end with the founding of the Jewish state. Indeed, there is a long and hard road ahead. And the emergence of today's Information Age has set forth new challenges that have hindered the Jewish campaign to secure our place in the community of nations."

"In a world where media consumption is at an all-time high, where TV narratives and social media trends command the attention of policymakers, where editors and producers reign supreme, the Jewish people find themselves vulnerable yet again," he went on to say.

The purpose of The Algemeiner, Efune stated, was to provide a "media home for the Jewish people and everything that the Jewish people stand for — for truth, for justice, for speaking out, for reaching out to those in need," serving as a "lighthouse newspaper" to "shine a light of truth over the troubled waters of deception and falsehood, and also to highlight the good and the heroic in this world."

Watch Efune's remarks in their entirety below:
Algemeiner Unveils 4th Annual 'J100' List at Star-Studded Gala Featuring Miloš Zeman, Yaacov Agam and Stuart and Robbi Force
The Algemeiner unveiled its 4th annual "J100" list of top 100 people "positively influencing Jewish life" on Monday night, at a star-studded gala in New York City. Honorees in attendance included President of the Czech Republic Miloš Zeman, Israeli artist Yaacov Agam and activists Stuart and Robbi Force.

The event, held at Cipriani's 25 Broadway location, was attended by over 600 people, who gathered in support of The Algemeiner.

Both Zeman and Agam received The Algemeiner's prestigious "Warrior for Truth" award.

Special guests Stuart and Robbi Force — the parents of the late Taylor Force, the US Army veteran murdered in a terrorist attack in Tel Aviv last year for whom a proposed bill seeking to restrict American aid to the Palestinian Authority was named — also delivered moving remarks at the event.

Other notable attendees included: James Taranto of the Wall Street Journal; National Security Council member Victoria Coates; Hollywood mogul Harvey Weinstein; legal scholar Alan Dershowitz; World Jewish Congress President Ronald Lauder; Refet Kaplan of Fox News; artist Ron Agam; actor Paul Sorvino; former US Ambassador to Israel Daniel Shapiro; Israeli Consul General in New York Dani Dayan; Czech Ambassador to the US Hynek Kmoníček; Czech Ambassador to the UN Marie Chatardova; and Conference of Presidents of Major American Jewish Organizations Executive Vice Chairman and CEO Malcolm Hoenlein, among a number of community and industry leaders.

The evening's Master of Ceremonies was TV personality S.E. Cupp, and Event Chairs were Neil and Sharon Book. Bernard-Henri Lévy served as Honorary Chairman, and i24 News anchor Shayna Estulin hosted the red carpet.
Terrorist Rasmea Odeh deported
Today was the day. Convicted terrorist murderer and immigration fraudster Rasmea Odeh's last day on U.S. soil.

She's been stripped of her citizenship and put on a plane out of O'Hare for Jordan, where she'll join convicted terrorist murderer Ahlam Tamimi, the mastermind of the Sbarro Pizzeria Massacre.

For background on Rasmea and her pathetic lying supporters, see my post Convicted terrorist and immigration fraudster Rasmea Odeh to be deported September 19.

I also gave a detailed explanation in my interview, The Lies of Rasmea Odeh and Her Supporters Exposed.

Demonstrating the effectiveness of the propaganda campaign by Rasmea's supporters, the Associated Press headline, widely shared, referred to her as an "activist" rather than the terrorist she is and uncritically quoted her claim of a coerced confession: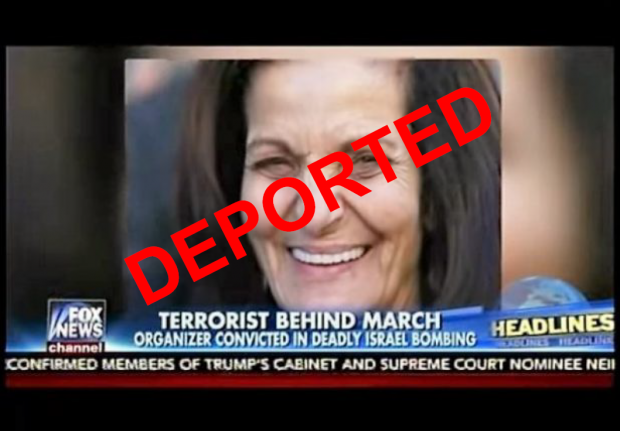 IsraellyCool:
Further Proof BDS Supports Destruction of Israel
In searching for material for my Rasmea Odeh deportation post, I came across the following tweet of some of her supporters, clearly calling for the destruction of Israel (liberation of Palestine = all of British mandate Palestine, including modern Israel).

While I do not recognize most of these people, two stand out.


I do not know who the guy marked on the top left is, but he is part of Adalah NY and advocates for BDS. He is one of the "stars" of one the BDS flash mob fail videos I have featured on this blog.

The woman on the bottom left is Anna Baltzer, another BDS-hole I have featured on the blog a number of times, and who also features in one of the BDS flash mob fail videos I have posted.

So while we can laugh at their lame dance moves and terrible singing, what they stand for is terrifying.
Keith Ellison Compares Illegal Immigrants To Jews In Nazi Germany
Rep. Keith Ellison (D-MN) issued a rather outlandish and gross analogy on Wednesday in which he compared illegal immigrants in the United States to Jews living in Nazi Germany.

Ellison was speaking at a panel in Minneapolis focusing on immigration reform and the Deferred Action for Childhood Arrivals (DACA) program and began ranting about how American citizens are supposedly "deeply connected" to illegals.

"Three million DACA recipients live with someone who is a citizen of the United States," Ellison bloviated. "Add that to the people who work with a DACA recipient. Add that to people who are the parents of a DACA recipient. Add that to people who are parents of American citizens."


"You are literally talking over 100 million Americans who are in some way — way more than 100 million, maybe well over that — who are deeply connected to people who have immigrated to the United States, some with official papers some with not."

Ellison went on to claim that this means Americans have a moral obligation to provide sanctuary for illegals and then proceeded to make the disgusting comparison.

"If you ask yourself, 'What I would I do if I was a gentile in 1941 if my Jewish neighbors were under attack by the Nazis, would I give them sanctuary?'" Ellison said. "You might be about to find what you'd do. Will you pass that moral test, or will you fail it?"

To seriously compare illegals living in America today to Jews in Nazi Germany is gross and wrong in a myriad of ways. People who are here illegally — meaning they broke the law and are facing consequences for doing so — are far different than Jews who were gassed to death by the Nazis. To make that comparison trivializes the horrors of the Holocaust.

Ellison is also in no position to be making such a comparison given his extensive ties to Louis Farrakhan's Nation of Islam and record of anti-Semitism. And he's the deputy chair of the Democratic National Committee (DNC).
Brendan O'Neill:
Parsons Green: silence in the face of terror
This near erasure of terror attacks from the nation's memory, or at least from the nation's daily political interactions, is not an accident. All those PC-sounding platitudes – don't let them get to you, stand together, love conquers hate, move on, etc – are precisely designed to discourage intellectual and political interrogation of the problem of 21st-century terror in favour of encouraging us to feel small, short-lived emotions instead. This post-terror culture, the cultivation of sadness over debate, 'carrying on' over confronting the problem, is an attempt by the cultural elite to decommission what it sees as ordinary people's problematic anger and to ensure we have only a passive response to terror. Lay a flower and go home again, like good, obedient children.

This isn't stoicism. Stoicism doesn't mean being silent or refusing to think hard about the problems that face you and your society. Strictly speaking, stoicism is the opposite of that: it's an Ancient Greek philosophy that encouraged the endurance of hardship and indifference to pain precisely as a means of heightening knowledge and reasoned discussion. What we have post-terror today runs counter to this. It's the cultivation of national indifference to acts of mass murder as a means of repressing discussion, not facilitating it. When, in earlier periods, people were encouraged to 'Keep Calm and Carry On' – most notably during the Second World War – the aim wasn't to shush awkward debate or dull the minds and questions of the masses. Debates about the problem of Nazism and other issues abounded even as people kept calm and carried on. People were encouraged not to fear the enemy; they were not encouraged to avoid talking about the enemy. What we have today is something different and pretty terrifying: a situation where 'Keep Calm and Carry On' really means 'Do not name the enemy; do not talk about it; it's nothing to worry about; just go back to work'. Keep calm and the shut the hell up.

But there is much to talk about. And have strong feelings about. And get angry about. If it's true a refugee planted the failed bomb at Parsons Green, then that raises very serious questions about the recent influx of refugees to Europe and about our societies' failure to assimilate them; it raises questions about the the failure of multiculturalism. That this was the fourth seemingly Islamist attack in Britain this year raises huge questions about this ideology and what we might do to defeat it. That the powers-that-be do not trust us to have an open, frank debate about these mass murders of our fellow citizens raises big questions about democracy and freedom of speech. We should not fear terrorism but we should confront it, really, freely and honestly. Right now, one gets the impression that officialdom and the media elite fear us and our ideas and feelings more than they do terrorists.
London police on high alert in Jewish communities ahead of High Holy Days
London's Metropolitan Police is on higher alert in the Jewish communities ahead of the High Holy Days, a Jewish volunteer community group posted on Wednesday.

Shomrim UK, a Jewish volunteer community safety patrol organization based in England, tweeted a letter they received by Metropolitan Police saying that London police will be working closely with the Jewish community in the coming weeks "to provide an extra level of visibility and vigilance."

This comes after Metropolitan Police arrested two more suspects on Wednesday in the investigation of the September 15 terror attack at London's Parsons Green train station, that Islamic State claimed responsibility for.

A home-made bomb on a packed rush-hour commuter train in London engulfed a carriage in flames, but apparently failed to fully explode, injuring 22 people in the attack.

However, the letter to Shomrim UK stated that this raise in security is "not in response to a raised threat." The British police added that it is an opportunity to work closer with London's Jewish community and to ensure a "happy and safe holy day period."
Twin converts to Islam added to US blacklist after plotting terror attacks against Jews
The United States put twin brothers from South Africa who planned attacks on Jewish institutions in their native country and on the US embassy on its terror blacklist.

Brandon-Lee and Tony-Lee Thulsie, 24, were arrested in July 2016 in South Africa and charged with three counts related to terrorism. They had converted to Islam the year before.

The State Department said that because of the threat they pose to US security the pair had been named "Specially Designated Global Terrorists."

"These designations seek to deny Tony-Lee Thulsie and Brandon-Lee Thulsie the resources they need to plan and carry out terrorist attacks," the State Department said in a statement Tuesday.

"Today's designations notify the U.S. public and the international community that Tony-Lee Thulsie and Brandon-Lee Thulsie have committed or pose a significant risk of committing acts of terrorism. Terrorism designations expose and isolate entities and individuals, and deny them access to the U.S. financial system. Moreover, designations can assist the law enforcement activities of U.S. agencies and other governments," the statement said.
We Didn't Normalize Trump. We Normalized the Left's Violence.
Last week, conservative Ben Shapiro gave a speech. At Berkeley. And all across America, people watched their screens to see what sort of violence would erupt.

Reality was anticlimactic. Law enforcement was out in force, at an estimated price tag of $600,000. Concrete barriers were erected to hold back the liberal "antifa," and police obtained permission in advance to use pepper spray. Much of campus was locked down and cleared out. Nine people were arrested. And so, Shapiro arrived, gave his speech, and departed without the mayhem we've become accustomed to seeing at such appearances. And collective relief was sighed.

But how relieved should we be that this is what it takes to maintain order in the face of … a speech? On the one hand it shows that even in the heart of antifa territory, police and authorities that are actually determined to control them can do so. That's good to know (and gives the lie to chicken authorities who would give antifa a heckler's veto). And yet, those authorities could be forgiven for feeling daunted, even aggrieved, when they realize that every speaker antifa doesn't like means vast sums, and considerable effort, expended on turning your public spaces into a demilitarized zone.

I don't have an ironclad date for when antifa became a recognizable, and destructive, force in our politics. But I really began to notice them around the time of Trump's election, when I saw people defending their actions on the grounds that they were trying to stop Trump from being "normalized." It was argued that protesting-as-usual -- show up, mill around for a while, chant a bit, and then go home to see how much news coverage you got -- was inadequate to our uniquely dangerous historical moment. Stronger action was called for.
Masa pulls funding for 'anti-occupation' program
A program for Diaspora Jews began a crowdfunding campaign on Monday after Masa Israel pulled its support, citing participants' involvement in certain disputed activity in the West Bank.

The program in question is Achvat Amim, meaning "Solidarity of Nations," which for the past four years has operated under the wing of Masa Israel, a division of the Jewish Agency.

The decision comes a month after right-wing watchdog Ad Kan went to the media saying that Achvat Amim, a program organized by the Hashomer Hatza'ir youth group, was carrying out demonstrations in Palestinian villages and provoking IDF soldiers.

Video footage taken by participants in the program revealed members of Achvat Amim volunteering at the "Sumud Freedom Camp" – a Palestinian camp in the South Hebron Hills that was established in May and lasted some 40 days, Ad Kan said. Footage purported to show Achvat Amim participants involved with the reconstruction of this outpost and clashing with security personnel.

Achvat Amim slammed the Ad Kan report as "inaccurate and misleading," saying that the activity in question referred to a six-week event "that brought together Israelis, Palestinians and Jews from around the world to take part in entirely legal activities – clearing, cleaning and making livable the area of the cave home of a local Palestinian family who were working to bring life back to the land they had left two decades ago.
Illinois Democrats Take Stand against Anti-Israel Boycott Campaign
The Democrats scored an important victory against hatred and intolerance earlier this month when State Senator Daniel Biss announced that he had dropped his running mate, Alderman Carlos Ramirez-Rosa, in his bid for the Democratic nomination for Illinois governor.

A week earlier the Evanston Democrat had selected Ramirez-Rosa to run alongside him in the Democratic primary. But the relationship quickly soured over Ramirez-Rosa's support of the Palestinian-led Boycott, Divestment and Sanctions (BDS) campaign, a fringe anti-Semitic group that calls for the ostracization of companies and institutions that do business with Israel.

Within hours of Ramirez-Rosa's nomination, Illinois Democrats launched a campaign of protest, expressing a zero-tolerance stance against BDS and anti-Semitism in Democratic Party ranks. A few days later, influential Congressman Brad Schneider had withdrawn his support for Biss' campaign, citing reservations over Ramirez-Rosa's "past comments about the United States support of our ally Israel."

The Democratic Congressman also voiced concern over the alderman's affiliation with the Democratic Socialists of America, an activist organization which, at its convention in Chicago in August, passed a resolution in support of BDS.

For the Democrats to respond to events quickly and decisively was crucial. It set a standard for the rest of the country that, when you need to move left to win a primary, there is a red line on Israel that makes supporting BDS — on its own — disqualifying for candidates for state-wide office.
IsraellyCool:
Michael Moore Hosts Roger Waters
We already know Michael Moore is on the wrong side of history, which includes hatred of Israel.

So it comes as no surprise that he would have rock-n-roll BDS-hole Roger Waters as his guest on his Broadway show.

In this clip, Waters brings up BDS and receives boos from some in the audience – obviously wise to what he and BDS are really all about. But in true Waters dishonest fashion, he suggests the boos are about something else entirely.

These two are turds of a feather.
Hijacking: Anti-Israel language in Cornell Student Assembly statement about racial incidents
The Cornell campus currently is in turmoil over two racial incidents.

In one, a student shouted "build a wall" near the Latino Living Center. At least two reports (Campus Reform and The New American) claim the student was Hispanic and said it to mock Trump. The Cornell administration has declined to confirm or deny those reports, referring me instead to prior general statements from university officials. I may have more on that in a subsequent post.

In a second incident, one or more students who got into a fight off campus with a black student called him the "N" word.

There have been multiple statements from the university administration promising action, and some student assembly members are considering trying to ban "hate speech" as part of a campus code revision.

The Cornell student assembly considered last night a statement on the incidents.

Some students, however, used the opportunity to hijack the student assembly statement to insert language against the completely unrelated Cornell's partnership with The Technion, Israel's high tech university.
For Comment on Holocaust Museum, New York Times Turns to Anti-Israel Activist
The New York Times finally tackled the issue of the US Holocaust Memorial Museum's report analyzing whether America could have prevented the genocide and refugee crisis in Syria — and, unbelievably, it gives the last word in the story to a notorious anti-Israel agitator.

The Times article, by Sopan Deb and Max Fisher, is error-riddled and tendentious from the very beginning. Its first sentence is: "The United States Holocaust Memorial Museum is finding itself in an unfamiliar position: as a lightning rod for the fierce debate over the Obama administration's role in the Syrian civil war."

This is wrong on two counts.

First it's not an "unfamiliar position" for the museum to be at the center of a controversy about the Middle East. In fact it's been repeatedly in this position. There was the flap over Yasser Arafat's visit to the museum. There was a flap in the late 1990s — I wrote about it for The Forward at the time — over the museum's involvement with a book about war crimes that included a section about Israel's treatment of the Palestinian Arabs.

Second, the description of what happened in Syria as a "civil war" is the sort of term that takes the side of those who argued that America shouldn't get involved. If it was a Syrian "civil war," then why get in the middle of it? If it was a Syrian genocide, or refugee crisis, or humanitarian crisis, then the case for American intervention might be stronger.
Facebook may be facing a new 'era of accountability'
The problems keep piling up for Facebook, and it's unclear how long the internet giant will be able to brush them aside as it barrels toward acquiring its next billion users.

The world's biggest social network has unwittingly allowed groups backed by the Russian government to target users with ads. That's after it took months to acknowledge its outsized role in influencing the US election by allowing the spread of fake news — though before news emerged that it let advertisers target messages to "Jew-haters."

Now Facebook is under siege, facing questions from lawmakers and others seeking to rein in its enormous power. The company has turned over information on the Russia-backed ads to federal authorities investigating Russian interference in the US presidential election. Critics say the company also needs to tell its users how they might have been influenced by outside meddlers.

Speculation is rife that Facebook executives, perhaps including CEO Mark Zuckerberg, could be called to testify before Congress. Hearings might lead to new regulations on the company.

"Facebook appears to have been used as an accomplice in a foreign government's effort to undermine democratic self-governance in the United States," writes Trevor Potter, former chairman of the Federal Election Commission and now head of a nonpartisan election-law group, in a letter to Zuckerberg.
The 4'11" Jewish woman who entered the lion's den to spy on Nazi Germany
The 4'11" French Jewish woman was walking through a field of snow when the ground underneath her began to crack. She was a spy for the Allies, sent to infiltrate the German front, but her military guide had neglected to mention the frozen body of water along the way. When the ice broke and Marthe Cohn fell into the canal, she wondered if this was finally the end.

"I told myself, if you don't get out from here as fast you can, you're going to die of hypothermia," recalled Cohn, now 97.

But perishing wasn't an option. Dying would mean giving up on her top-secret mission and squandering the courage those closest to her had shown in the face of terror.

Her siblings worked to save fellow Jews from the horrors of the Nazi regime. Her fiancé, Jacques, was also involved with the resistance. He was later executed by the German army for his actions.

Cohn herself had been threatened and insulted for her religion. But she was a spy now — a spy with an important task, and she had no intention of returning to her superiors empty handed.
'I Am a Jew,' Czech President Milos Zeman Tells Algemeiner Gala
More than 600 guests at The Algemeiner's annual gala in New York City on Monday night sat enthralled by a speech from Czech President Miloš Zeman, in which he talked of his love for Israel and the Jewish people, and ridiculed what he called the "yes, but…" method of supporting Israel.

"I paraphrased the famous slogan of John F. Kennedy, 'Ich bin ein Berliner,'" Zeman told the crowd, as he recalled a speech he'd made at a major international conference.

Said Zeman, "I told them, 'I am a Jew.'" He then added in Hebrew – to warm applause from the crowd – "ani yehudi."

Zeman, who was accepting The Algemeiner's "Warrior for Truth" award, declared that words by themselves were not enough. He highlighted the global risks facing Israel and the democratic world, especially "Islamic terrorism," and the need for "concrete action."

Zeman was scathing towards those who accept Israel as a fact, but do not respect its legitimacy. He noted that there are those who, when asked if they support Israel, answer, "yes, but…"

Zeman cited international refusal to recognize Jerusalem as Israel's capital as an example of this attitude.
IDF guides rename Temple Mount
The IDF has officially expunged the term "Temple Mount," choosing instead to refer to Judaism's holiest site as "behind the Kotel," NRG reported.

In a pamphlet given to soldiers going on a tour of Jerusalem, the guidebook given to soldiers says that the famous Binding of Yitzhak (Isaac) occurred "behind the Kotel," using that term instead of the Temple Mount.

According to Makor Rishon, newer booklets produced by the IDF's Jewish Identity Branch do not discuss the Binding of Yitzhak at all.

The pamphlet, produced by the IDF Rabbinate titled, "The Selichot Tours Booklet," is currently serves as the Slichot excursion guidebook for soldiers. It contains explanations and sources for the selichot prayers, including one which describes the Binding of Yitzhak - an event mentioned both in Sephardic and Ashkenazic selichot prayers.

NRG reported that according to the booklet, the Binding of Yitzhak is "one of the most important events in the history of the Jewish nation. Our forefather Avraham, the founder of the Jewish nation, was willing to give up what meant most to him - his son Yitzhak, for the sake of his lofty ideals. And Yitzhak himself was willing to give up his life for these ideals."
Israel to dispatch rescuers, aid after quake devastates Mexico
Israel said it will dispatch aid to Mexico following a devastating earthquake that shook the center of the country, collapsing buildings and killing at least 149 people.

Dozens of buildings tumbled into mounds of rubble or were severely damaged in densely populated parts of Mexico City and nearby states. Mayor Miguel Angel Mancera said buildings fell at 44 places in the capital alone as high-rises across the city swayed sickeningly.

Hours after the magnitude 7.1 quake, rescue workers were still clawing through the wreckage of a primary school that partly collapsed in the city's south looking for any children who might be trapped. Some relatives said they had received Whatsapp message from two girls inside.

Luis Felipe Puente, head of the national Civil Defense agency, reported Tuesday night that the confirmed death toll had been raised to 149.

Israeli Prime Minister Benjamin Netanyahu's office said Mexico had asked Israel for aid after Netanyahu offered help.

"Netanyahu ordered that aid and a search and rescue operation be organized to leave to Mexico as soon as possible," his office said late Tuesday.
IDF to send 50-person delegation to earthquake-hit Mexico
A delegation of 50 soldiers from the IDF's Home Front Command is expected to travel to Mexico City on Wednesday afternoon to assist local teams after a large earthquake devastated portions of the country, an army spokesperson said.

At least 248 people were killed when a powerful 7.1-magnitude earthquake struck Mexico on Tuesday, including 21 children crushed beneath an elementary school that was reduced to rubble.

Late Tuesday night, Prime Minister Benjamin Netanyahu's office said Mexico had asked Israel for aid after Netanyahu offered help.

"Netanyahu ordered that aid and a search and rescue operation be organized to leave to Mexico as soon as possible," his office said.

The 50-person delegation is made up mostly of engineers who will help assess the structural integrity of buildings in Mexico City and other affected areas. It will include only a small number of search and rescue personnel, and no field hospital. The IDF spokesperson said such delegations may be sent in the future, but that has yet to be decided as of Wednesday morning.
16 UN ambassadors wish Jews, Israel a happy new year in video compilation
Sixteen United Nations ambassadors wished Jews around the world a happy new year in a video compilation posted to Facebook Wednesday by Israel's UN Ambassador Danny Danon.

"We have many friends in the world who are true allies that support Israel here in the United Nations. These countries wish us a happy new year," said Danon at the opening of the one-minute clip.

While UN ambassadors from 15 countries earned short cameos wishing the Jewish people a happy and healthy new year, US Ambassador Nikki Haley received the most spotlight. "Happy new year to all of our friends. Whether its in the United States, Israel or around the globe. Shanah Tovah. We wish you all the best in health happiness and peace. God bless," she said.

Along with the US and Israel, the other countries represented in the clip were Germany, Hungary, Albania, India, Argentina, Australia, Rwanda, Mexico, the United Kingdom, Singapore, Estonia, Uruguay, Austria and Togo
Stand With Us: A Rosh HaShana Message From Roz Rothstein, CEO
---
---
We have lots of ideas, but we need more resources to be even more effective. Please
donate today
to help get the message out and to help defend Israel.