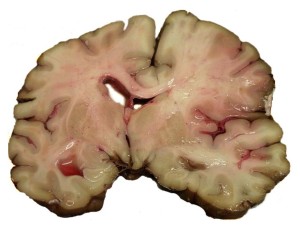 Beirut, April 11 - The head of a militant Islamist group dedicated to the violent destruction of Israel and the establishment of an Islamic state of Palestine in its place suffered a "brain attack" yesterday and underwent surgery to prevent further deterioration, following what observers believe to be the inaugural use of an Israeli device that causes such medical emergencies by remote means.
Palestinian Islamic Jihad chief Ramadan Shalah was admitted to Dahiyya Hospital in the Lebanese capital Tuesday for treatment of a stroke - the object of Israel's new weapon called the Stroke of Genius. PIJ spokesmen rushed to dispel rumors that the hospitalization resulted from poisoning, prompting observers to conclude that since all Arab or Islamic misfortune stems from Israel, the latter must be in possession of technology that induces non-poisoning medical threats from afar.
"We wish to allay fears that our brother Ramadan has been poisoned," assured Hemo Rajj, a spokesman in Damascus. "He is recovering from surgery after suffering a stroke." The report led his audience and the group's followers and supporters to determine that Mr. Shalah's medical incident must have been caused by some other Israeli action.
"Well, if not poisoning, and it's a stroke, there can be only one reasonable conclusion," surmised Anu Rism, an analyst with Al Jazeera. "First, We know Mr. Shalah takes very good care of his health and does not suffer from high blood pressure, which is normally the major factor in a stroke. Therefore all indications point to Zionist origins for this situation. Second, We also know that Islamic Jihad's hosts in Syria, Lebanon, Iran, and Sudan offer the best possible protection against direct harm. Thus we are forced to the realization that Israel possesses technology that can induce strokes by remote means. Third, and this is more speculative, we have heard much talk about Israeli maneuvers or decisions as 'strokes of genius,' a term that conveniently showcases Zionist arrogance as a name for the technology. QED, as they say."
The capabilities, range, and other aspects of Stroke of Genius remain unknown quantities, causing consternation in Arab capitals and among high-ranking members of terrorist organizations. In the assessment of Hamas spokesman Mahmoud al-Zahar, the very uncertainty can serve as a weapon in itself, much in the way Israel's official silence on the existence of the country's nuclear arsenal provided a measure of deterrence through the years. "I'ts just another thing we have to worry about," noted al-Zahar. We're all about embracing a violent death in pursuit of jihad, but embracing a doddering, incontinent senility in pursuit of jihad isn't nearly as sexy."
---
---
We have lots of ideas, but we need more resources to be even more effective. Please
donate today
to help get the message out and to help defend Israel.