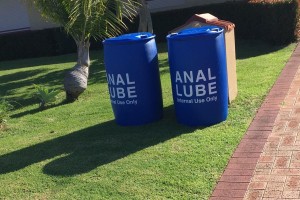 Tehran, March 7 - Officials in Iran's ballistic missile program discovered today that a vessel carrying illegal cargo intended for the Islamic Republic's weapons program had been duped into instead transporting barrels of lotion used to smooth the passage of items into the rectum. The officials blamed Israeli intelligence for the switch.
Iranian customs and counterintelligence facilities went on red alert this morning after cylindrical components offloaded from a North Korean freighter turned out not to be canisters for the delivery of ordnance, as agreed between the regimes, but similarly-shaped containers of anal lubrication ointment. An anonymous source within the weapons program disclosed to PreOccupied Territory that all indications pointed to Mossad involvement.
"The captain's log has clearly been tampered with," explained the source. "On top of that, the ship appears to have disappeared from radar during part of its Indian Ocean journey, and some of the crew display signs of having been drugged. None of them recall anything suspicious, but we have tested some of the rations on board and found traces of sedatives."
In itself, clarified the source, the disappearance from radar represents nothing unusual, as transportation of contraband by North Korean vessels necessitates frequent use of ruses to mask the exact purpose and itinerary of a voyage. However, he noted, the period when the ship could not be tracked also made it vulnerable to the operation in question.
Experts are reserving judgment on the claim of a Mossad operation. "It's certainly poetic, and Mossad have style, so that's a tight fit," conceded Pia Tabaat, an analyst at Jane's. "And it's of a piece with earlier Israeli operations. But all the rest is speculation, so I would caution everyone not to jump to any conclusions."
Inspection of the cargo hold revealed that the original material in the shipment was in fact loaded onto the ship in Wonsan, as attested to by several open containers compatible with the missile components. The ship's manifest includes certification of cargo inspection before departure from North Korea last month, but the identification of the cargo is registered there as "agricultural machinery" to disguise the actual contents of the shipment, and matches neither the desired components nor the large barrels of anal lube.
The episode may prove an embarrassment to authorities in Iran already facing unrest over their
handling of the economy, international relations, and religious coercion. Mention of it has been barred in official media.
Smirking Israeli officials declined to comment.
---
---
We have lots of ideas, but we need more resources to be even more effective. Please
donate today
to help get the message out and to help defend Israel.