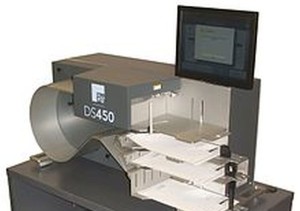 Tel Aviv, November 9 - Developers and project leaders at Israel's secret intelligence service gathered today to celebrate the first successful field test of the outfit's latest device for manipulating and controlling the results of elections.
The team of programmers, black operations experts, and planners held an informal ceremony at Mossad headquarters this morning following the announcement of the presidential race in the US to congratulate one another on a job so well done that the instruments they had used produced the precise voting percentages in every state that they were programmed to produce.
Mossad officials gave special citations to the developers of the technology, who labored for six years to produce an automated alternative to the teams of agents scattered across the globe, tasked with altering poll data to suit Israeli interests. The section chief praised her staff for completing the project ahead of schedule and under budget.
"Not only did you free up precious funding for other important projects," she noted, "your work will enable our colleagues in the Operations Department to expend less energy, money, and effort on direct manipulations of elections worldwide, and instead use the personnel for the equally vital missions of training wildlife to conduct espionage and kidnapping Palestinian children for organ harvesting and the use of their powdered remains to melt snow." The latter project is especially urgent, she explained, given the new capabilities of the weather-control and natural-disaster devices that have come on line in the last year.
A member of the development team said the device has three components. The first uses a proprietary technology to seize covert control of vote-processing machines and generate the desired results. Because not all districts use computerized voting, a second component employs existing mind-control technology to suppress voter turnout in the necessary areas. The third component is not strictly connected to manipulating elections, but was included for convenience's sake: it remotely adjusts the level of static electricity in the environments of various anti-Israel figures in the target country and sends painful electrical shocks through them at awkward moments.
A fourth feature that was tested during the 2016 campaign included a device that reduced the size of Donald Trump's hands, but that project was discontinued in favor of two cheaper alternatives. One hacked into the GOP nominee's Twitter account and sent outrageous tweets at regular intervals, and the other placed Anthony Weiner back into the news cycle briefly, just to break the monotony.
---
---
We have lots of ideas, but we need more resources to be even more effective. Please
donate today
to help get the message out and to help defend Israel.