From Ian:
---
Saeb Erekat:
Palestinians Have Never Agreed to Establish a State With Provisional Borders
In his opinion piece "Dear Abbas, answer Kerry, and establish a Palestinian state now", Mr. Yossi Beilin provides several assertions that are not factual, including the allegation that Palestinians had agreed to establish a state with provisional borders in the past.
While the idea of "provisional borders" was an option according to the Road Map, President Yasser Arafat never accepted this formula. Under President Abbas' leadership, the PLO never accepted such a formula either. President Abbas never declared the acceptance of this frame to Mr. Beilin.
While we appreciate the enthusiasm of Mr. Beilin, a man with proven credentials for pursuing the end of the occupation and a sovereign State of Palestine living side by side with the State of Israel, twisting facts is not the way to move forward [not satire].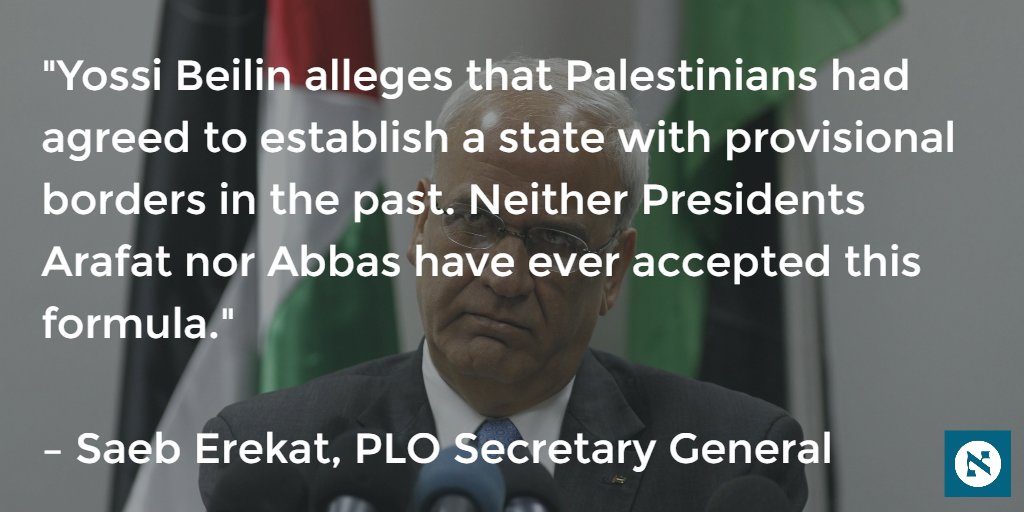 Poll: Israel not occupying Judea-Samaria, peace unlikely with PA
Just days before Israeli Independence Day, a new poll conducted by Tel Aviv University in conjunction with the Israeli Democracy Institute's Guttman Center has revealed that Israelis are more pessimistic than ever about the prospects for a true peace with the Palestinian Authority (PA).
Among Israeli Jews, only 5.7% strongly believe that negotiations could lead to peace between Israel and the PA in coming years. In total only 20.7% believe peace is possible in the foreseeable future, compared to 77.6% who do not.
A strong majority of Israeli Jews also believe that Israel's control over Judea and Samaria does not constitute an "occupation," with 71.5% of Jews rejecting the notion Israel is "occupying" those territories, as opposed to just 22.7% who agree with that characterization.
Israeli Arabs, however, were far more likely to believe Israel is occupying Judea and Samaria, with 71.5% perceiving Israeli control as occupation, versus a mere 15.3% who disagreed.
Israelis were more divided over Prime Minister Binyamin Netanyahu's declaration that "the Golan will remain part of the State of Israel forever," which many perceived as reaffirming Israel's 1981 annexation of the area.
Abbas stop being a bully. Israel can't occupy her own country
In order to keep Palestinians quiet for just a moment, like the teacher who appeases the "wicked" child, the UN, EU and USA mollify them hoping that there will be but a moment of peace and time to care for the others in need. But like all recalcitrant children who learn how to play the game, work the system, the Palestinians know if they apply enough pressure ,make enough noise that they will get the attention they want and the "cookie" that will silence them until the next tantrum.
Remember back in September when Abbas screamed
"We will not forsake our country and we will keep every inch of our land…The Al-Aqsa Mosque is ours. The Church of the Holy Sepulchre is ours as well. They have no right to desecrate the mosque with their dirty feet, we won't allow them to do that."
Remember he screamed this after he had his bullies cowardly attack Jews over the Temple Mount.
Then later in October the Palestinians cried again about something (does it matter?) and in order to appease them UNESCO agreed to present a draft affirming "that the Buraq Plaza is an integral part of al-Aksa Mosque/al-Haram al-Sharif."
This was done despite the fact that it is well known that the Temple Mount was built by and belongs to the Jews. Never let a fact get in the way of Jew hatred.
Holocaust survivor pens letters to IDF general accused of comparing Israel to Nazis
In response to controversial comments made by Maj. Gen. Yair Golan during a Holocaust Remembrance Day address in which he compared Israel to Germany in the 1930s, a Holocaust survivor wrote a rebuttal letter on Monday imploring the IDF officer to reexamine his position.
Rachel Zaney, a 94-year-old survivor of Auschwitz, penned a powerful reply to Golan's assertion that "horrifying developments that took place in Europe are beginning to unfold" in Israel.
In her letter, Zaney articulates the stark differences between Israel today and her horrifying experiences during the Holocaust. Among them, she touches on the discrimination Jewish students experienced in the University in Berlin and explained that her father was forced to travel to Budapest in 1916 to study due to "class limitations" banning Jews from studying in Berlin.
She compares this discrimination found in the early influences of Nazism in Germany to the complete academic freedom of Arab-Israelis who "can study at any institution that suits them, and even benefit from affirmative action."
Dennis Ross: Mideast turning to Russia because we're weak
Dennis Ross, who served as President Barack Obama's Middle East adviser from 2009 to 2011, published an op-ed on the Politico website on Sunday, in which he said that Israel and Arab countries are turning to Russia because of the United States' weakness.
Noting that the United States has significantly more military capability in the Middle East today than Russia, Ross pointed out that Middle Eastern leaders are nevertheless "making pilgrimages to Moscow to see Vladimir Putin these days, not rushing to Washington."
"Two weeks ago, Israeli Prime Minister Benjamin Netanyahu traveled to see the Russian president, his second trip to Russia since last fall, and King Salman of Saudi Arabia is planning a trip soon. Egypt's president and other Middle Eastern leaders have also made the trek to see Putin," wrote Ross.
"Why is this happening, and why on my trips to the region am I hearing that Arabs and Israelis have pretty much given up on President Barack Obama? Because perceptions matter more than mere power: The Russians are seen as willing to use power to affect the balance of power in the region, and we are not," he wrote.
Venezuelan envoy to UN apologizes to Danon over 'final solution' remarks
Venezuela's envoy to the UN Rafael Ramírez called Israel's UN Ambassador Danny Danon over the weekend to apologize for his remarks asking if Israel sought a "final solution" against the Palestinian people during a speech at an informal meeting of the United Nations Security Council Friday afternoon.
At the meeting, which was held under the informal UN mechanism known as the Arria-Formula and discussed the Palestinian's need for international protection, Ramirez said that members of the UN Security Council should ask themselves: "What does Israel plan to do with the Palestinians? Will they be disappeared? Does Israel seek probably to wage a final solution sort of solution as was perpetrated against the Jews?"
The comments had caused much controversy at the meeting itself. Both the United States and the United Kingdom as well as a representative of the Israeli NGO Yesh Din spoke out against it at the meeting itself.
According to the Israeli mission at the UN, during the phone call, Ambassador Danon demanded that Ramirez issue a public apology. The Venezuelan representative may choose to do so at the next Security Council's meeting on the Middle East this week.
ADL says MK Oren's criticism of Obama foreign policy not racist
The Anti-Defamation League walked back a statement from last year implying MK Michael Oren (Kulanu) used racist stereotypes to describe US President Barack Obama, ending what Oren called a painful experience Sunday.
Last year, when the former ambassador to the US' book Ally: My Journey Across the American Israeli Divide was published, the MK wrote a series of op-eds for various publications promoting the book, including one titled "How Obama Opened His Heart to the 'Muslim World" for Foreign Policy.
Then-National Director of the ADL Abraham Foxman accused Oren of arguing "that American foreign policy in the Middle East is primarily being promoted and dictated by the president's early upbringing in the Muslim faith and in Muslim traditions…This results in borderline stereotyping and insensitivity."
In time for the publication of the Hebrew translation of Oren's book, current ADL CEO Jonathan A. Greenblatt clarified last week that "there were some who misinterpreted [the statement] as suggesting that we thought he was using racist language…We as ADL make clear that we never intended to suggest that what he said was racist, nor did we have any intent to suggest the ambassador is racist."
Israel warns Jewish pilgrims of 'severe' terror threat in Tunisia
Israel's Counter-Terrorism Bureau on Monday highlighted a "severe" travel advisory for Tunisia.
Many Jews who hail from the Mediterranean Arab country travel each year to the island of Djerba in the country's south, the historic home of an ancient community of Jewish priestly families, to celebrate the Lag B'Omer holiday, which this year falls on May 25-26.
The bureau, a branch of the Prime Minister's Office, on Monday urged Israelis and Jews not to visit the country this year due to the "high" likelihood of attacks by jihadist groups.
"Terror groups, especially global jihadist [organizations], continue to operate in Tunisia and to launch terror attacks," the bureau said in a statement.
Iran claims to successfully test missile that can reach Israel
A senior Iranian general on Monday announced that the country's armed forces successfully tested a precision-guided, medium-range ballistic missile two weeks ago, the state-run Tasnim agency reported.
"We test-fired a missile with a range of 2,000 kilometers and a margin of error of eight meters," Brigadier General Ali Abdollahi was quoted as saying at a Tehran science conference.
The eight-meter margin means the "missile enjoys zero error," he told conference participants.
The general went on to say that 10 percent of Iran's defense budget has been allocated to "research projects aimed at strengthening defense power," the report said.
Under a nuclear deal signed last year between world powers and Iran, ballistic missile tests are not forbidden outright, but are "not consistent" with a United Nations Security Council resolution from July 2015, US officials say.
Iran's Plans to Control a Palestinian State
The Iran nuclear deal, marking its first anniversary, does not appear to have had a calming effect on the Middle East.
Iran funnels money to Hamas and Islamic Jihad because they share its desire to eliminate Israel and replace it with an Islamic empire. The Iranian leaders want to see Hamas killing Jews every day, with no break. Ironically, Hamas has become too "moderate" for the Iranian leadership because it is not doing enough to drive Jews out of the region.
More Palestinian terror group leaders may soon perform the "pilgrimage" to their masters in Tehran. If this keeps up, the Iranians themselves will puppeteer any Palestinian state that is created in the region.
Ya'alon: Ongoing Gaza strikes will elicit severe Israeli response
Defense Minister Moshe Ya'alon on Monday blamed recent Palestinian mortar and rocket attacks and rising tensions on Israel's border with Gaza on successful IDF steps to locate tunnels that the Hamas terror group has dug into Israeli territory. He also cautioned that Israel would not ignore ongoing attacks.
"In the last few days, we've seen various attempts from Gaza to disturb our lives and threaten us," he said at a memorial ceremony in Tel Aviv to honor Defense Ministry personnel killed in the line of duty.
The attacks are "a result of Israel having developed the ability to detect tunnels, an advanced technology that the Defense Ministry and its workers have been involved in developing and using in recent days," he added, according to a Defense Ministry transcript.
Ya'alon warned that if the shooting does not stop, Israel would respond forcefully against Hamas.
"Against this terror stands the IDF and various security agencies who are responding decisively to the shooting from the Strip — shooting that, if it continues, will lead to a more severe response for Hamas and other terror organizations in the Strip, until they understand it's not wise to test us."
IDF Spokesman: Israel Will Continue to Detect, Destroy Terror Tunnels Despite Hamas Attacks
The Israel Defense Forces has no intention of escalating the situation along the Israel-Gaza border, but it will continue operations to detect and destroy Hamas terror tunnels, IDF Spokesperson Lt. Col. Peter Lerner said on Sunday.
Lerner was speaking in an interview to air Sunday night on this reporter's weekend national talk radio show, "Aaron Klein Investigative Radio."
Stated Lerner:
The IDF and Israel have no intention of escalation, but we also have no intention of accepting the reality of these infiltration tunnels. Tunnels that only have one purpose – terror, death, and destruction. And that's why they need be stopped and we will continue to operate to do so. That is our obligation. It's what we need to do and we have to do it even under the potential that it could lead to more fire against our forces. Our job is to defend the civilians of the State of Israel and that's what we intend to do.
Lerner explained that the IDF has been using a combination of technology, intelligence, and ground force engineering operations to detect the terror tunnels.
"In the last three weeks, we found two tunnels which have been cross-border tunnels in the southern Gaza Strip," he stated. "What we have been doing is decommissioning them, putting them out of order.
7 IDF Soldiers Wounded in Suspected Palestinian Arson Attack on Jerusalem Base
Seven IDF soldiers were evacuated Sunday afternoon to Jerusalem's Hadassah Medical Center-Mount Scopus suffering from smoke inhalation as a result of a fire that broke out on their nearby base, the Hebrew news site nrg reported.
Following the incident, Yoram Levy, spokesman for Israel's Fire and Rescue Service, told The Algemeiner that the cause of the fire is being investigated as a possible case of arson, "due to the proximity of the base to Palestinian areas." Levy also said the fire was immediately put out.
This, he said, "is not the first time that Palestinians have committed arson terror against soldiers, both on Mount Scopus and other areas in the country."
Israel Police spokesman, Chief Inspector Micky Rosenfeld, told The Algemeiner that the police and fire department are conducting a joint investigation into the incident, "to examine its background and source."
Legal NGO threatens to sue Netanyahu over Palestinian incitement
Shurat Hadin – Israel Law Center on Sunday threatened to sue Prime Minister Benjamin Netanyahu and the government if he does not shut down incitement by the Palestinian Authority that it complains is being broadcast via Israeli airwaves.
Under the 1990s Oslo Accords, the government allocated broadcast frequencies to the PA for radio and television network broadcasts.
"The problem of murderous incitement by Palestinian groups and individuals against Jews has become epidemic," the NGO wrote in a letter to Netanyahu both as prime minister and in his capacity as communications minister.
"Much of this incitement has come directly from Palestinian leaders and is broadcast on official PA television and radio... Such incitement has played a major role in encouraging... Palestinian terrorist attacks against Jews and Israelis over the last seven months," it continued.
US re-issues travel advisory for Israel, West Bank and Gaza
Citing a "complex" security environment, the US State Department re-issued a travel warning Wednesday night for its citizens planning to travel throughout Israel, Jerusalem in particular. It also urged US citizens and diplomatic personnel to avoid the Hamas-ruled Gaza Strip and certain areas of Area A in the West Bank.
"The security environment remains complex in Israel, the West Bank, and Gaza," the State Department said. "US citizens need to be aware of the continuing risks of travel to areas...where there are heightened tensions and security risks."
The Department said that even though Israel and the Palestinian Authority take precautions to secure popular tourist sites, "these efforts are not 100 percent effective."
American citizens who are in Gaza were urged to leave as soon as possible and reminded US government employees that they are not allowed to travel to the Strip for neither business nor personal reasons.
Priest leading Christian IDF draft accused of sexual misconduct
Father Gabriel Nadaf, a Greek Orthodox community leader who supports Arab Christian enlistment in the IDF, is accused of accepting sexual and monetary favors in exchange for assisting young people with their enlistment and Palestinians with travel permits, according to a Channel 2 report Sunday.
Nadaf denies all the claims against him.
In the report, it was noted that no complaints had been filed with the police, nor has an investigation been launched.
Nadaf was accused of using intimate and loving language with the young draft candidates in cell phone conversations, and of inviting one soldier to join him at a vacation cottage.
Nadaf was recently named as one of the ceremonial torch lighters for the state Independence Day ceremony in Jerusalem on Wednesday evening.
Twelve Fighters Leave Gaza For Islamic State Sinai Branch
Over the last month alone, 12 jihadists have left Gaza to join the Islamic State in Sinai, a top Salafi source told Breitbart Jerusalem.
The group of Salafists left Gaza together as part of an intricate escape operation, defying Hamas' heightened security and Egypt's strict control of cross-border tunnels, the sources said.
Nine of them were university graduates (including four with a Master's degree), they were all employed, and some had families.
"Most of them didn't belong to a specific organization," the source said.
The trickle of jihadi fighters into Sinai continues despite a recent deal between the Egyptian army and Hamas, whereby the latter has deployed hundreds of troops along the border.
Egypt was adamant in its demand that Hamas stop collaborating with Waliyat Sinai, IS's Egyptian branch, as Breitbart Jerusalem recently reported.
PreOccupiedTerritory:
Apparently, 'A Stone's Throw' Supposed To Be Metaphor (satire)
Linguistic researchers at the Academy of the Hebrew Language were stunned this week to discover that the common English expression "a stone's throw" denotes a short span of distance between two locations, and is only meant figuratively. The researchers must now revise their assessments of millions of occurrences of the phrase in various contexts, and revise their translation.
A representative of the Academy told reporters that one member of the staff had overheard American academics using the phrase in a way that could only be understood metaphorically, and, upon returning to the Academy, asked his colleagues to help him look into its origins. The representative said that upon finding out that living under the constant threat of stone-throwing by Palestinians is not a universal experience, the Academy realized it had to revisit its assumptions.
"It just never occurred to any of us to take the term at anything but face value," said Academy spokeswoman Yirga Muhu. "It was patently obvious to us, at least, that the phrase referred to a phenomenon well within the realm of our everyday experience, and it never occurred to us that it might go beyond the literal."
Egypt detains satirist over video mocking government
Egyptian prosecutors have detained a member of a group of satirists that posted a video mocking the government, a prosecution official and his lawyer said Sunday, amid a wide-ranging crackdown on dissidents.
Police arrested Ezzedine Khaled, 19, at his apartment on Saturday and he was remanded into custody for four days, his lawyer Mahmoud Ottman told AFP.
Khaled is a member of a group called Awlad al-Shawarea or "Street Children," that posts satirical songs on its Facebook page.
Its latest appears to have touched a nerve as police round up activists involved in April protests against President Abdel Fattah al-Sissi for handing over two islands to Saudi Arabia.
Many Egyptians believe the islands in the Straits of Tiran belong to them, although the government says they were Saudi and had been leased to Egypt in the 1950s.
A Plan for the Day After ISIS Is Defeated
A little over a month ago, I published an article here on the military strategy required to defeat ISIS. Tragically, a few days thereafter, one of my family members was struck down by ISIS terrorism, when a homicide bomber detonated himself next to a group of Israeli tourists in Istanbul, Turkey. Among those killed was my wife's nephew, Yonatan (Yoni) Suher, an Israeli-American citizen.
A few days after the terror attack that murdered Yoni, ISIS struck again – this time in Brussels, Belgium, killing dozens in the city's airport. Attacks such as these prove that defeating ISIS is an urgent mission in which almost the entire world must be engaged.
However, in order to defeat ISIS, a military strategy alone is insufficient. A diplomatic and political plan is also necessary, so as to ensure that the day after the victory belongs to those who oppose terror. ISIS is nourished by the religious Shi'ite-Sunni war in the Middle East. As long as the geopolitical situation encourages that war, rather than defusing it, this organization will continue to regenerate, even if it is defeated militarily.
Past experience teaches us that leaders and military commanders invest deeply in how to win the battle, but they do not always plan suitably for the day after victory. The most prominent examples of this phenomenon include the American 'victory' over Saddam Hussein's Iraq in 2003, and the 'victory' of the Western coalition against the Qaddafi regime in Libya in 2011. In both cases, rapid military victory led to complete chaos; and chaos is the breeding ground of terror.
Comment: Syria, Assad and Arab politics in Israel
When we look at Syria we don't see a conflict between a regime and rebels, as it is often described. At first, years ago, it seemed like another revolution such as had taken place in Egypt or Tunisia, but the conflict in Syria is now much more complicated. There are several reasons for this. Foreign powers have turned the situation from a public uprising to an international playground. It's now about more than replacing one regime with another – it's become a question of existence.
Will Syria as a country survive, or will it vanish.
The Iraqi experience of "democracy" indicates Syria's likely future: a united country fragmented into tribes and regions based on religious sectarian views, in the name of democracy.
More problematic is the fact that the rebellions are supported with money and weapons from anti-democratic regimes such as Qatar and Saudi Arabia – a sure indication the brutal interference in Syria has no noble goal whatsoever. Supplying extremists with unlimited resources to fight the only remaining secular regime in the Middle East in the name of Allah and democracy is a joke, and a lousy one, too.
There are three prevailing views among Palestinian Arabs in Israel on Syria (most Arab citizens of Israel view themselves as Palestinian). One sector supports the rebellion, others support Syrian President Bashar Assad and the third is not sure which side is worse. They claim to be "with the Syrian people," whatever that means. The first group accuses the Assad supporters of being fascists, supporting war crimes against civilians.
IS executes 7-year-old boy for swearing during soccer game
The Islamic State has executed a seven-year-old little boy for swearing while he was playing soccer with friends in the terror group's de facto capital of Raqqa in northern Syria.
According to the independent Syrian news source ARA, the boy was killed by firing squad at a central square in Raqqa last Thursday.
He was identified as Muaz Hassan.
A source told the news agency that IS members heard the boy "cursing divinity," while playing in the street with his friends, and that "the act was considered an insult to the Caliphate, regardless of the age of the boy."
According to witnesses who spoke to the news service, the boy was shot dead in front of hundreds of people, including his parents, who later collapsed in grief.
French journalist infiltrates jihadist cell for six months
The journalist, a Muslim using the pseudonym Said Ramzi, carried out the investigation for a documentary entitled "Allah's Soldiers," which gives an insight into the minds of young jihadists and will be shown in France on Monday night.
Ramzi describes himself as a Muslim "of the same generation as the killers" who carried out the November 13 terror attacks that left 130 people dead in Paris.
"My goal was to understand what was going on inside their heads," he told AFP.
"One of the main lessons was that I never saw any Islam in this affair. No will to improve the world. Only lost, frustrated, suicidal, easily manipulated youths."
"They had the misfortune of being born in the era that the Islamic State exists. It is very sad. They are youngsters who are looking for something and that is what they found."
Al-Qaida Leader Breaks Silence, Calls For 'Unity' Among Terrorist Groups In Syria
Al-Qaida leader Ayman al-Zawahiri pushed for unity among the various terrorist groups operating in Syria Sunday in a video posted online, his first public address since January.
The video was an apparent attempt by the Osama bin Laden successor to counter the ongoing presence of Islamic State as the premier Sunni terrorist group, as well praise the rise of the Nusra front, an al-Qaida affiliate, which has seen massive gains in Syria filling the void left by ISIS as it continues to lose territory.
"We have to want the unity of the Mujahideen in Sham (Syria) so it will be liberated from the Russians and Western crusaders," said al-Zawahiri in his video address. "My brothers … the matter of unity is a matter of life or death for you."
Al-Zawahiri condemns ISIS as "extremists," reinforcing al-Qaida's well-known disdain for the rival group. Though ISIS originated from al-Qaida in Iraq (AQI), the group splintered in 2013 to form its own independent terrorist organization. The two organizations share a similar radical Islamic ideology, however, they vehemently disagree on tactics and strategy.
Putin's Palmyra concert shows he is winning the propaganda war
The city of Palmyra, recently liberated from Isis, has seen a return to civilisation and culture with a performance by a Russian orchestra. The concert, conducted by a 'close associate' of Vladimir Putin, was of course a propaganda exercise – but what a propaganda exercise!
It fills me with genuine sadness that no western power would ever think to pull such a stunt, and this reflects a deeper problem with our foreign policy; that is, what are we promoting?
Western policy in the region since the start of the Arab spring has been crippled by an absence of clear, set goals, and a lack of confidence in our own ideals; in Syria we flirted with removing President Assad, despite having no idea what would follow, and a suspicion that the strongest opposition were Islamists – this policy having worked so well in Iraq.
Worst of all, though, western foreign policy is hampered by an ability to impose our values on the wider Middle East, because we don't know what they are. This is why the west doesn't understand symbolism in foreign policy – and when it does it's only aimed at a very particular set of very novel western values. As someone pointed out on Twitter, the only symbolism western leaders would associate with our foreign policy is a girl in a hijab going to school. Western foreign policy = gender equality.
Khamenei's Anti-Americanism
Khamenei is sending a strong signal to Washington that Iran's reintegration in global financial system does not mean that the Iranian regime will change its hostility towards the U.S. and Israel.
"The Persian Gulf is the Iranian nation's home and the Persian Gulf and a large section of the Sea of Oman belong to this powerful nation. Therefore, we should be present in the region, hold war games and display our power." – Iranian Supreme Leader Ali Khamenei
In addition, Khamenei is sending a message to the Iranian people that the current process of implementing the nuclear agreement, lifting sanctions, and partial economic liberalization does not mean that Iran is going to liberalize its politics and allow freedom of speech, freedom of the press, and more political participation.
IRGC Deputy Commander Threatens to Prevent the U.S. from Free Passage through the Hormuz Strait
Ben Rhodes Reveals How Obama Duped America Into The Dangerous Iran Deal
In the New York Times Magazine, Rhodes—and, by extension, the president he continues to work for—confessed to misleading the media, members of Congress, and the American people, all in service of a truly massive re-alignment of the nation's interests and security.
Abandoning longtime allies while embracing states that have long been enemies is a massive strategic shift more momentous than what can ordinarily be explained as "foreign policy"; in a free society, it requires the assent of the American people. Like its manipulation of the Constitution's treaty process, this White House subverted that assent to convince Americans that they live in a different, less dangerous world.
Operating as if we live in that different world, though, is a treacherous illusion. Some of the tangible results, not yet a year after the Iran deal: the consolidation of hard-liner power in Iran; the collapse of the ban on Iran's testing of ballistic missile sales; the collapse of the arms control regimes preventing Iran from buying heavy weapons and missiles from Russia; Iran's staging of multiple new ballistic missile tests; and, finally, that Iran has generated so much new enriched uranium, they've had to ship tons to Russia.
Reconstructing the truth isn't new for Rhodes who, based on Samuels' account, still clings to the juvenile literary tastes and the mock rebellious pose of the Williamsburg hipster he once was. Samuels writes,
When I asked Jon Favreau, Obama's lead speechwriter in the 2008 campaign, and a close friend of Rhodes's, whether he or Rhodes or the president had ever thought of their individual speeches and bits of policy making as part of some larger restructuring of the American narrative, he replied, 'We saw that as our entire job.'
It's a fair bet that most Americans didn't sign onto a duplicitous "larger restructuring of the American narrative" by junior fiction writers when they sent Obama to the White House in 2008. But it's what the country got and, thanks to Rhodes' work creating his "force multipliers" of freshly minted star journalists and partisan experts, will continue to get.
John Podhoretz:
White House admits it played us for fools to sell Iran deal
The storyline they peddled was that the Iran deal had been negotiated in a furious round of back-and-forthing in 2014 and 2015, with the United States getting far better terms out of Iran than it expected due to the flexibility of a newly moderate government in Tehran.
It was, Samuels says, a deliberately misleading narrative. The general terms were actually hammered out in 2012 by State Department officials Jake Sullivan and William Burns, rooted in Obama's deep desire from the beginning of the administration to strike a grand deal with the mullahs.
Why on Earth was such conduct remotely acceptable? Because, Samuels makes clear, Rhodes and Obama believe they're the only sensible thinkers in America and that there's no way to get the right things done other than to spin them. "I mean, I'd prefer a sober, reasoned public debate, after which members of Congress reflect and take a vote," he tells Samuels. "But that's impossible."
Impossible? There was a sober, reasoned public debate over the Iran deal. Its opponents were deadly serious. In the end, 58 senators voted against it on sober, reasoned grounds.
What the Samuels piece shows is that the Obama administration chose to attempt to get its way not by winning an argument but by bringing an almost fathomless cynicism to bear in manipulating its own clueless liberal fan club.
Victor Davis Hanson:
Obama's Gift of Immunity to Trump
It is now old wisdom that Barack Obama created Trump—as in the idea of a national pushback to Obama's out-of-the-mainstream agendas and the unconstitutional way in which he pursued them. Forgotten is the insulation that Obama has also provided for the excesses of Trump as a candidate and, especially, if he were to be president.
Last week, in sober and judicious tones Obama all but warned Americans that they cannot seriously support Trump, who, he implied, is little more than a reality-TV conman. But such admonitions come from a president whose chief foreign policy advisor, a failed fiction writer and D.C. insider, just bragged how he deceived the media and Washington's insider world by feeding amateurish journalists misleading talking points. Is it serious or in the spirit of reality TV for a president to invite to the White House a rapper whose court-ordered ankle monitor goes off in a presidential ceremony, or to give an exclusive interview with YouTube personality GloZell, noted for her selfies of eating breakfast cereal floating about her in a bathtub? Obama has lectured the media that they have to vet Trump, this from a candidate who never released his medical or college records, whose speech in praise of Rashid Khalidi was suppressed by the media, and whose entire memoir was only belatedly found out to be impressionistic fiction. Obama lowered the bar and Trump skipped over it.
Can Trump mislead much more than did Obama, who assured Americans that they would never lose their doctor or health plan but rather save money and have better care, and that pulling peacekeepers from Iraq would ensure a stable and self-reliant country? Obama, remember, also bragged abroad that he had all but closed Guantanamo within a year and would stop the Bush habit of piling up more debt? After Ben Rhodes and Jonathan Gruber, what exactly are the presidential standards on veracity that we must hold Trump to?
Former Defense Secretary: Obama Was Never Serious About Stopping Iranian Nukes
Former Secretary of Defense Leon Panetta would "probably not" believe that President Barack Obama was serious about his promise to take action to stop Iran from building a nuclear bomb if Panetta could make his assessments over again, he conceded in a New York Times Magazine article published on Thursday.
Panetta, who was the director of the CIA from 2009-2011 and then served as defense secretary until 2013, told reporter David Samuels that one of his most important jobs in the Pentagon was preventing Israel from launching a preemptive strike against Iran's nuclear infrastructure. Prime Minister Benjamin Netanyahu and then-Defense Minister Ehud Barak wanted to know if the president was serious about his commitment to prevent Iran from developing nuclear weapons.
"They were both interested in the answer to the question, 'Is the president serious?' " Panetta recalls. "And you know my view, talking with the president, was: If brought to the point where we had evidence that they're developing an atomic weapon, I think the president is serious that he is not going to allow that to happen."
Panetta stops.
"But would you make that same assessment now?" I ask him.
"Would I make that same assessment now?" he asks. "Probably not."
Ralph Peters Rips Obama's 'Chief Propagandist' Ben Rhodes: Stalin Could Have Used This Guy
Lt. Col. Ralph Peters blasted White House aide Ben Rhodes Monday, insisting that dictator Joseph Stalin could have used a "chief propagandist" like him when he was in power.
Peters was responding to a New York Times profile where, among other revelations, Rhodes boasted about using reporters and creating an "echo chamber" of Obama-friendly experts to sell the Iran nuclear deal.
Fox Business host Stuart Varney read out Rhodes' Medium column posted Sunday where the Obama flack reversed course and said there was "no shortage of good reporting and analysis." However, Varney pointed out, Rhodes "still misled" these people.
He asked Peters, a fierce critic of the Obama administration's foreign policy, for his take.
Ralph Peters Blasts Obama's 'Chief Propagandist' Ben Rhodes: Stalin Could Have Used This Guy
---
---
We have lots of ideas, but we need more resources to be even more effective. Please donate today to help get the message out and to help defend Israel.