---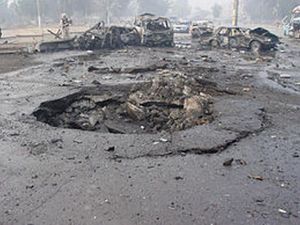 Tehran, January 6 - Officials in Iran's capital are telling excited followers of its recent dramatic activities that they should stay tuned in the coming weeks, when he Islamic Republic plans to expand its provocative activities to include direct assaults on the United States, and that the Obama administration, fearful of derailing the nuclear deal, will not mount a serious response.
For months, Iran has conducted and sponsored numerous activities aimed at US interests and allies, while President Obama and Secretary of State John Kerry have been so keen to avoid confrontation with Tehran that they have ignored, downplayed, willfully misinterpreted, or excused each instance, lest severe responses to Iranian aggression or violations thwart the implementation of the nuclear deal reached several months ago. Eager to see how much humiliation they can mete out to the US in that context without facing real consequences, Iran has steadily ramped up its provocations, to the delight of domestic and foreign fans alike.
"We're looking, at a minimum, at a bombing, shelling, or rocket attack of some sort, probably against a military target in the Persian Gulf, but maybe even against an embassy somewhere else in the world," offered Amjasgeddin Startid, a spokesman for the Ministry of Defense in Tehran. "Personally, I think we should board a US-flagged vessel, hold its crew captive, given them all wedgies, make them say the're 'fags,' and share it all over social media." Obama will refuse to order retaliation of any sort, promised Startid, because of his concern over maintaining the JCPOA agreement.
Even before formal negotiations over Iran's nuclear program began, the Ayatollahs were funding and training Shiite militias in Iraq, fighters responsible for the deaths of hundreds of American servicemen and thousands injured. However, with Obama and Kerry keen to paint Iran in a positive light, and eager to avoid any move that might jeopardize the deal that eventually emerged, the Islamic Republic intends to abandon the pretense and exclusively roundabout use of force against US targets.
"If current trends continue, we'll probably see an even greater escalation over the next several months," predicted retired US Marine General Albert Facepalm. "Tehran will try to squeeze all of their provocation for now into the last year of Obama's term, not knowing what November, or next January will bring. In the meantime, the most likely scenario will involve Iran's use of a nuclear weapon they've been able to develop in accelerated fashion thanks to the JCPOA, on American or American-allied targets, and Obama will restrain US forces from responding meaningfully, lest such a reaction cause Iran not to agree to temporarily curtail its pursuit of atomic weapons."
---
We are doing everything we can to fight for Israel with hard work, research and - above all - the truth. I could sure use your help.
Please donate today.
If you have other skills you can volunteer for EoZ, send an email to volunteer@elderofziyon.com
---