---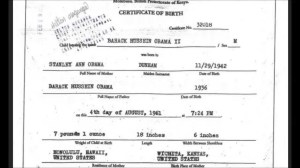 Vienna, August 12 - Hotel staffers cleaning up after the nuclear negotiations between Iran the p5+1 world powers last month came across what appears to be a secret element of the deal that emerged, in the form of a document that attests to the birth of Barack Hussein Obama in a Kenya hospital in 1961.
Congress and the Obama administration have clashed over the existence and content of any secret side agreements that are part of the deal, known as the JCPOA, which would remove sanctions from the Islamic Republic in exchange for various concessions in the country's pursuit of nuclear weapons. Skeptics of the deal especially have leveled vocal criticism of Secretary of State John Kerry and the White House for allegedly concealing from the American public what could be crucial information that would allow Congress to vote for or against the agreement with all the pertinent information in hand. Kerry and other administration representatives at first denied the existence of such side agreements, but at least two are known to exist. The Vienna document appears to add to the list, and its implications go far beyond the terms of the deal itself, affecting the legitimacy of the agreement as it potentially affects the legality of the Obama presidency. American Constitutional law mandates that the president be born in the United States; Obama has previously produced a birth certificate issued in Hawaii.
According to hotel employee Orly Taitz, the document in question is printed in English and Swahili, and registers the birth of Barack Hussein Obama, Jr. to Barack Obama and Ann Dunham at Mombasa State Hospital, August 4, 1961. Taitz said she discovered the certificate among papers accidentally left in the hallway outside the conference rooms where the negotiations took place, and that representatives of the various parties to the negotiations had denied ownership of the certificate. Attached to the certificate, which a reporter was allowed to see but not photograph, were several ages of terms under which the birth document would remain confidential among the parties to the talks.
Kerry and White House spokespeople were quick to deny the authenticity both of the certificate and its relevance to the JCPOA. "The American people got tired quite a long time ago with efforts to challenge the president's bona fide American birth," said White House Press Secretary Josh Earnest. "The so-called 'Vienna document' is a hoax, and neither it nor anything resembling it played any part in the negotiations or deal with Tehran."
Secretary Kerry sounded a similar note, accusing deal opponents of orchestrating the revelation. "The president has warned that the opponents of this deal will stop at nothing, even risking war, to undermine this eminently responsible agreement," he said. "Various moneyed interest are clearly behind this, and we all know whom I'm talking about."